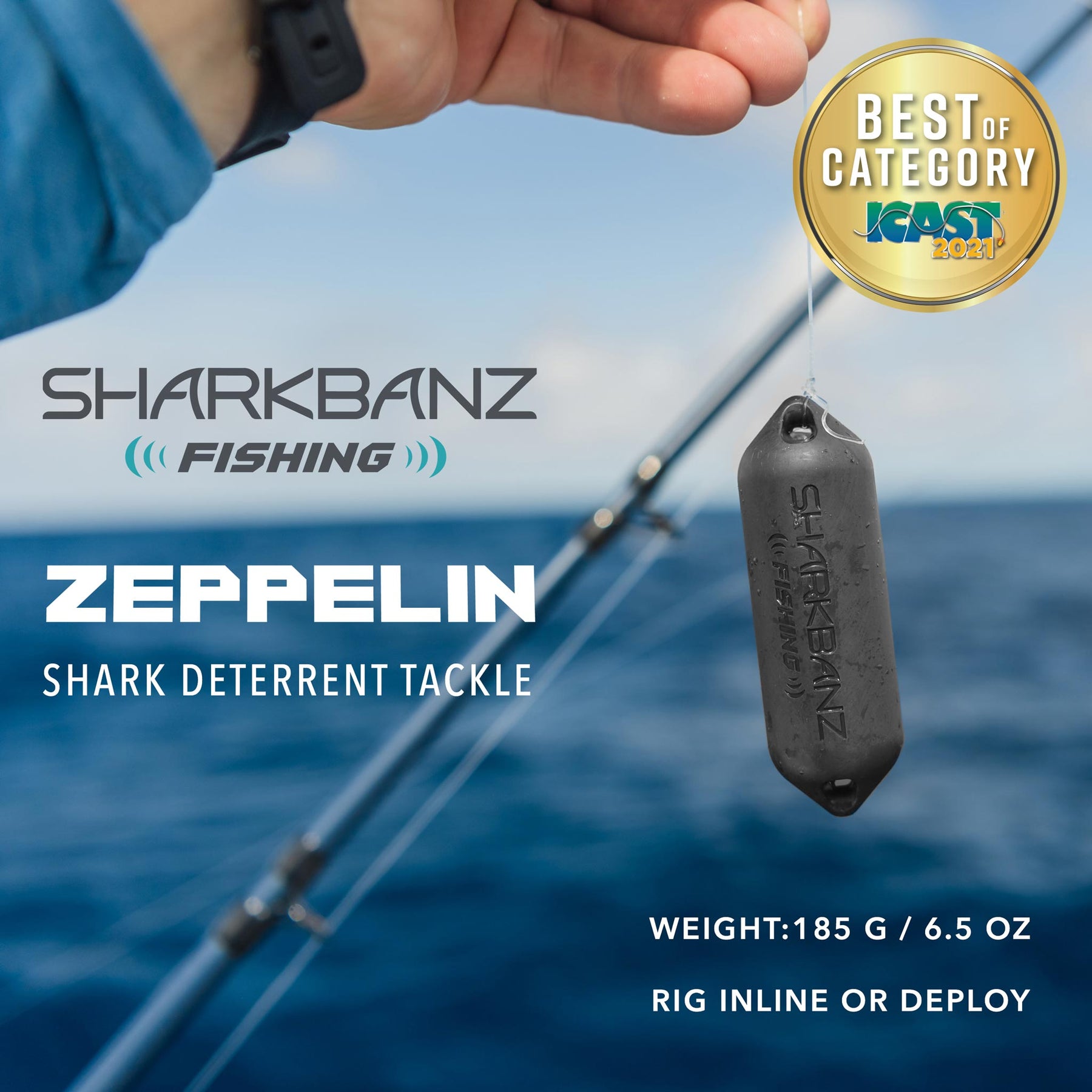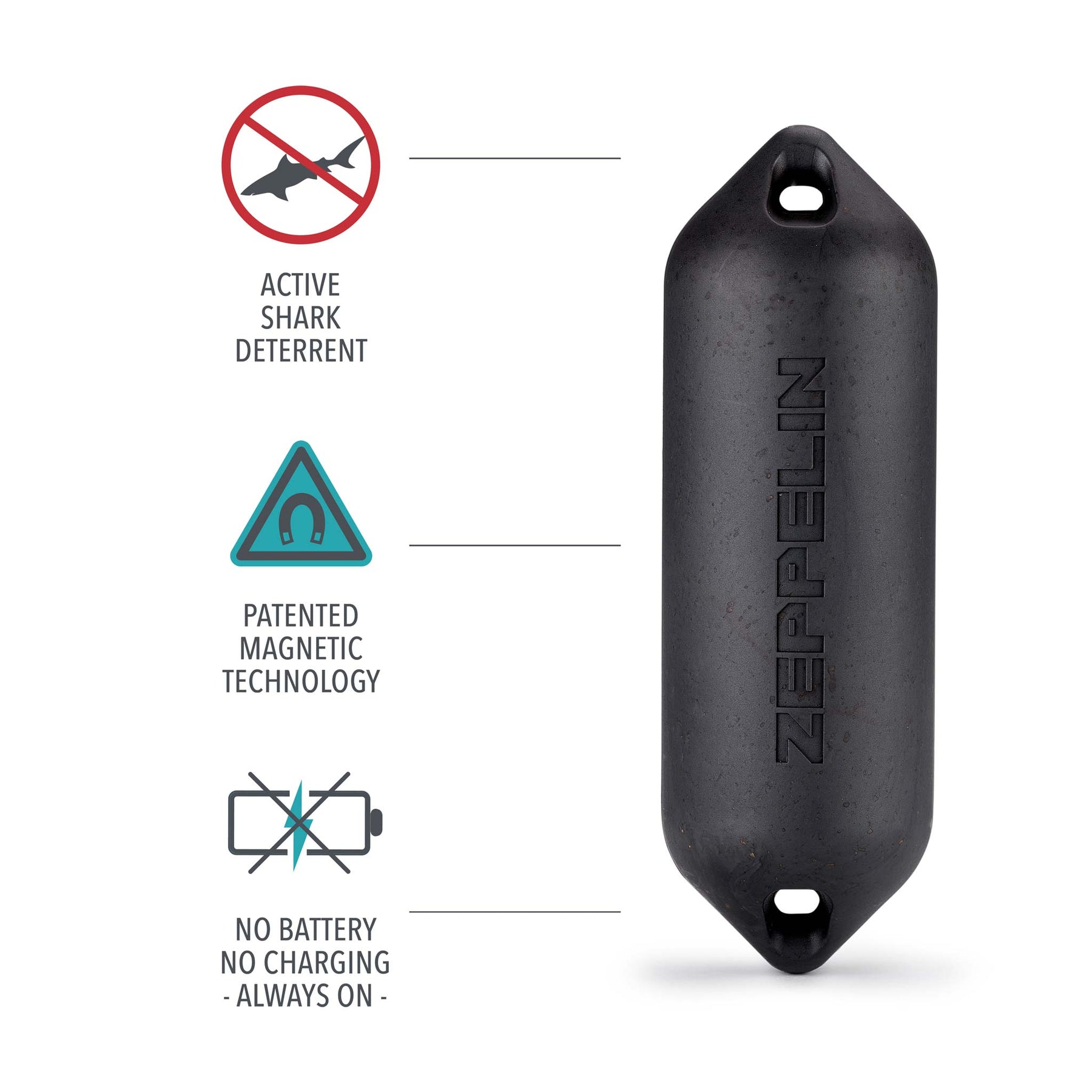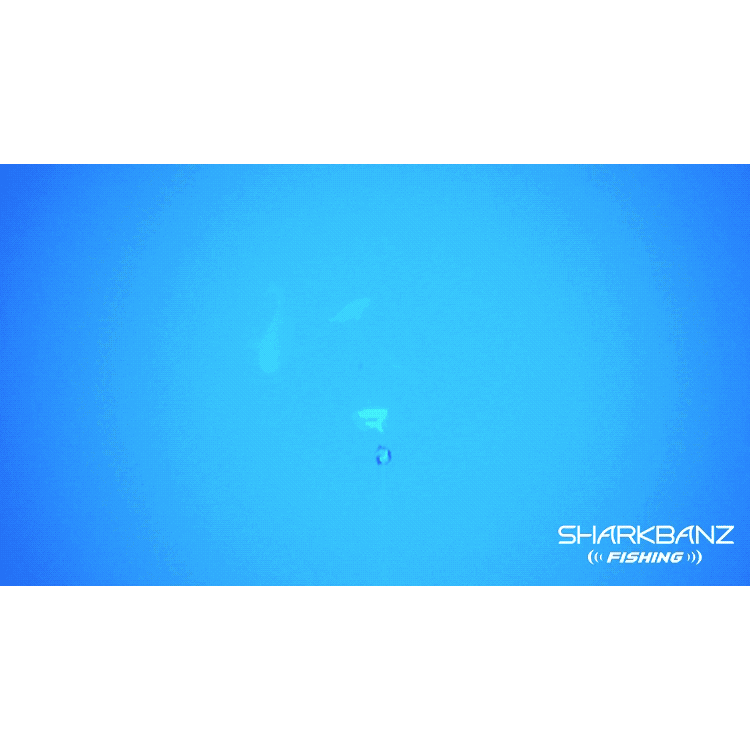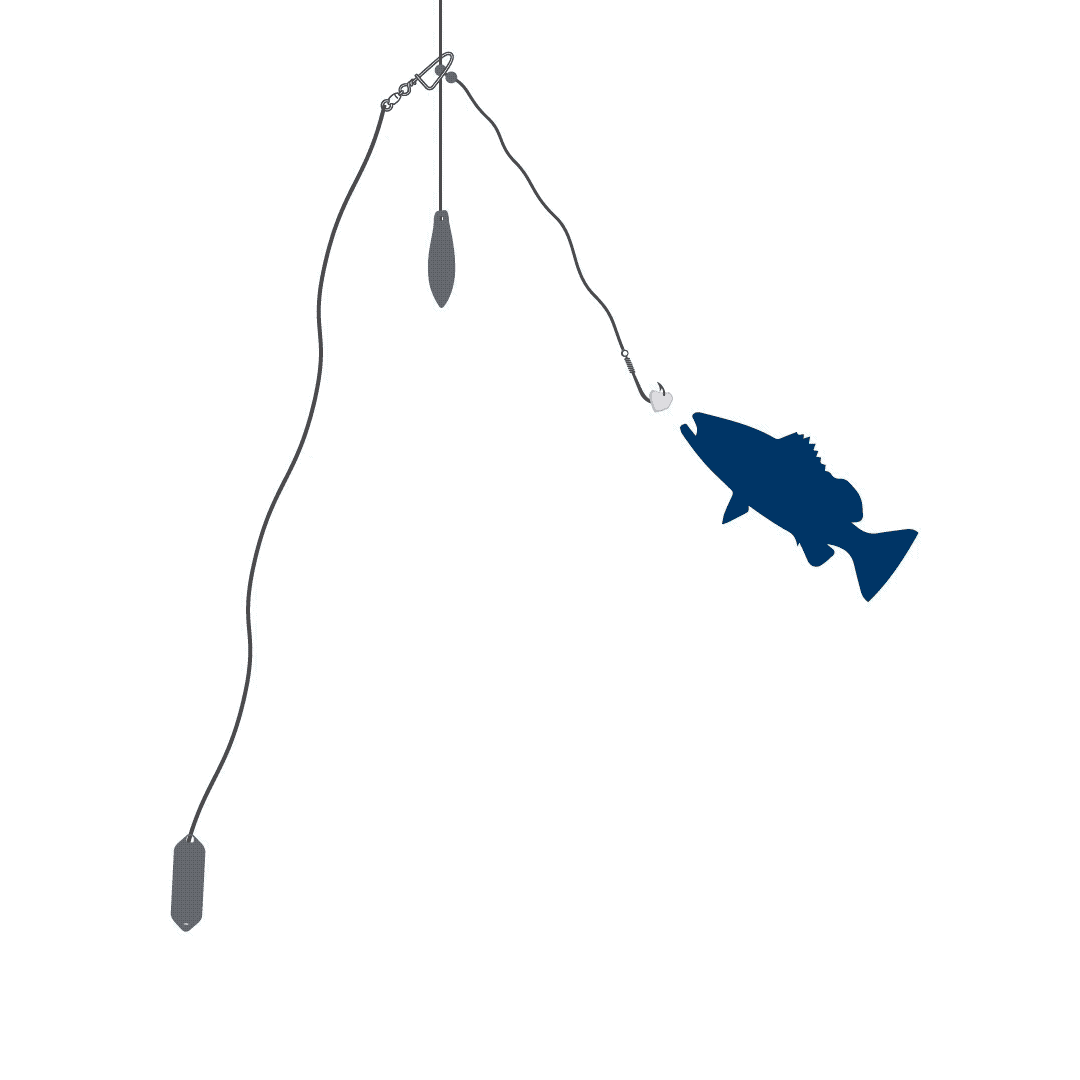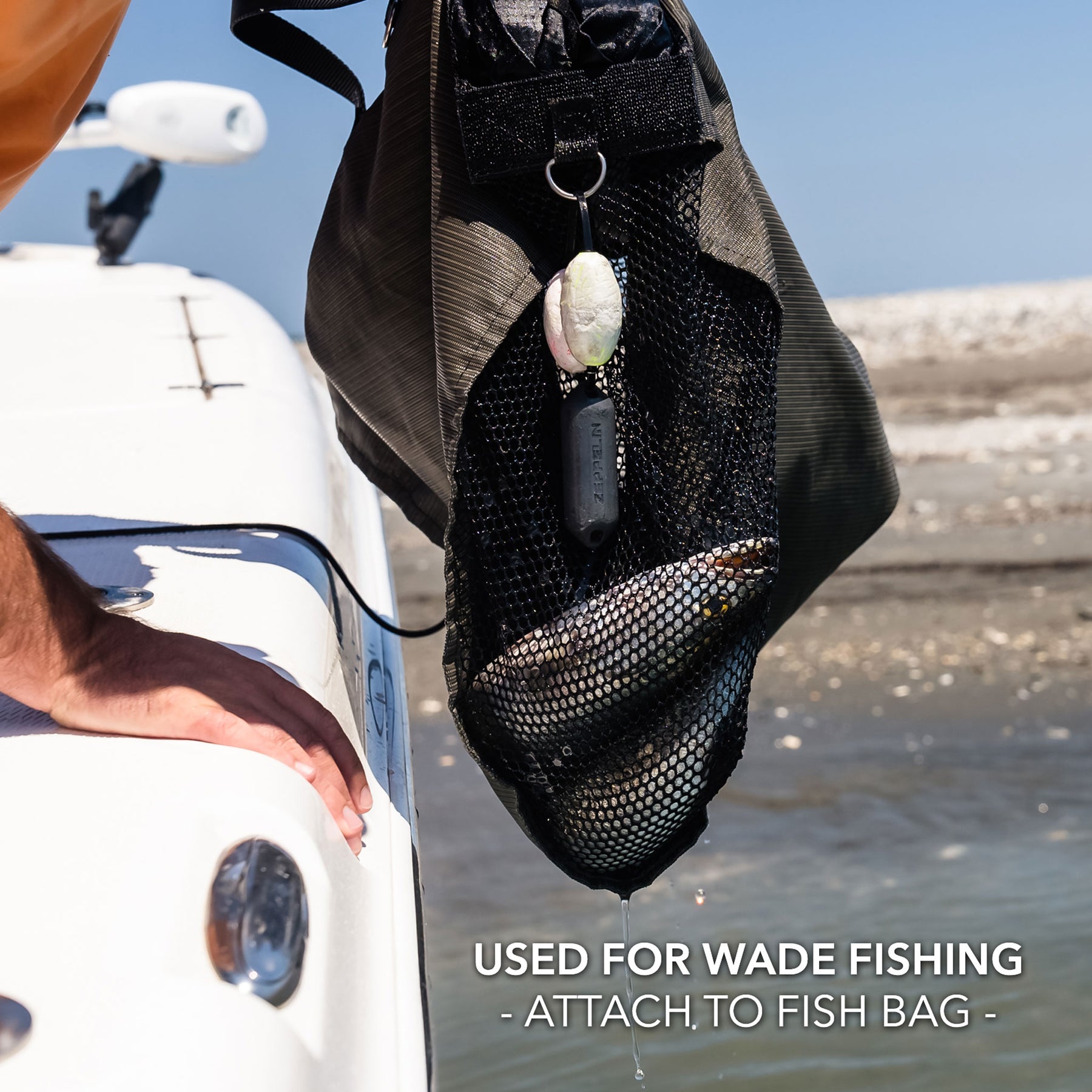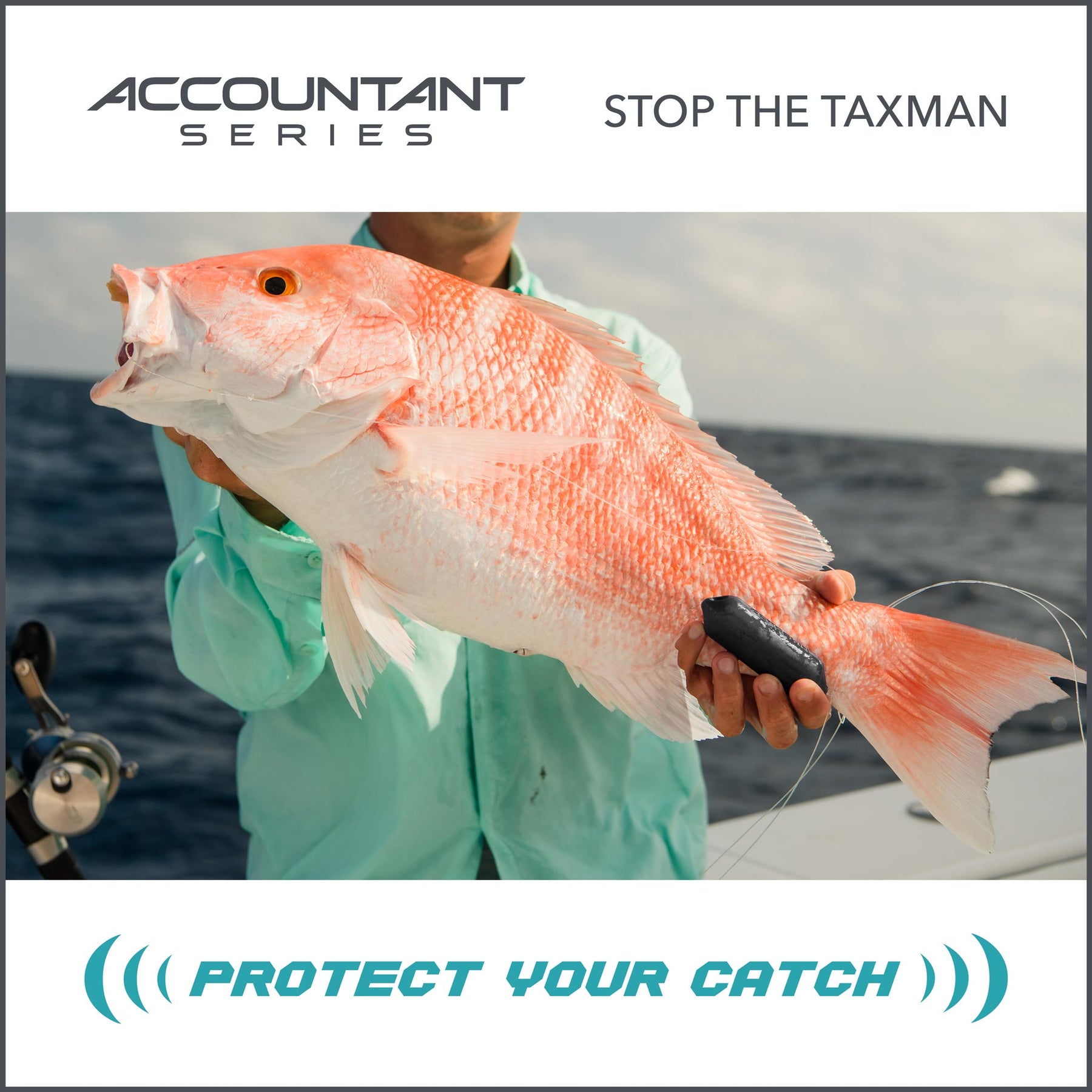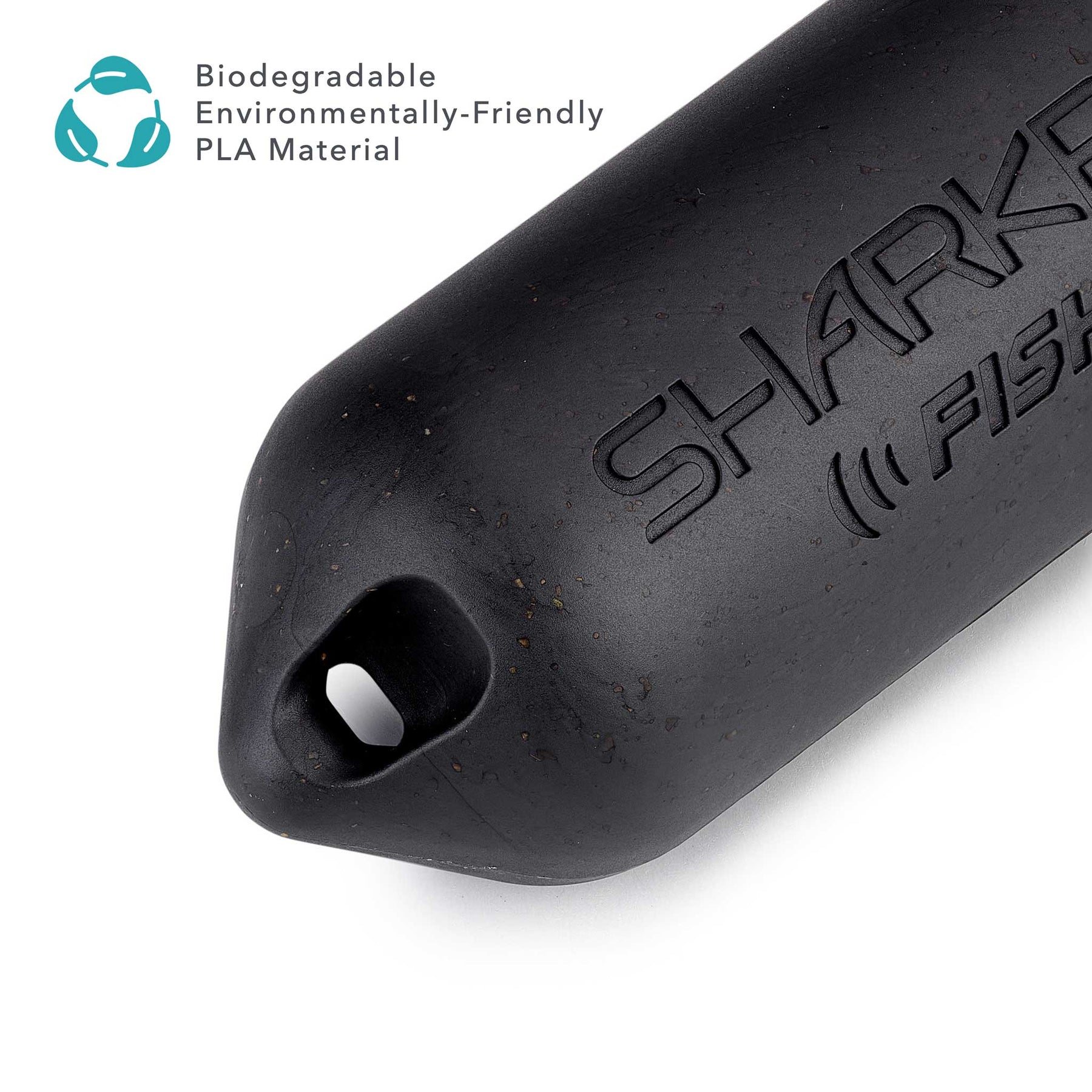 Sharkbanz Fishing - Zeppelin
Protect your catch and land more with fish with the Zeppelin, the world's first shark deterrent tackle. Using patented magnetic technology researched and tested by marine biologists on predatory shark species, Sharkbanz Fishing is proven to reduce the number of fish lost to sharks while targeting bottom dwelling fish species.
If you wade fish or spearfish, then use to provide additional catch security and shark safety.
• Patented Magnetic Shark / Stingray Deterrent Technology
• No Batteries or Charging - Always ON -
• Product Weight: 6.5 oz. / 185 g
• Deterrent Field Range: 3-6 FT / 1-2 M
• Depth Rating: Effective at any Depth
• TSA and Airline Travel-Friendly • Constructed with Biodegradable Environmentally-Friendly PLA Materials 
• 1 Sharkbanz Fishing Zeppelin. Patented Shark Deterrent Technology.
• 1 Magnetically-Shielded Heavy Duty Safe Storage Case. (Sharkbanz.com Exclusive) This unique storage case (pictured above), safely protects all of your electronics from your Zeppelin so you can store wherever and easily use for travel.
• Instructions for all best practices
• For Bottom Fishing: Attach the Zeppelin so the device will sit 18-36" inches (45-90 cm) from the tail of the target fish species.
• For Wade Fishing: Attach the Zeppelin to fish bags, stringers, or boots to protect oneself or catch from sharks. Rig with a stainless D-ring and clip (Shown on our Rigging page; not included).
• For Spearfishing: To protect your fish, attach to your catch bag or rig to your gun to auto deploy after firing. To reduce the risk of unwanted shark encounters, clip to your weight belt in addition to wearing Sharkbanz on your ankle.
For full user tutorials and all best rigging practices, please review our Zeppelin Rigging Page
Used for Bottom Fishing, Wade Fishing, Spearfishing

Patented Magnetic Technology

Active Shark Deterrent Tackle
Does Not Deter Target Fish (Sharks & Rays Only)

Weight: 6.5 oz / 185 g * Substitute your Sinker *

No Batteries | No Charging *Always ON*
Winner ICAST "BEST OF CATEGORY, Terminal Tackle" 2021
Proven to help Fishermen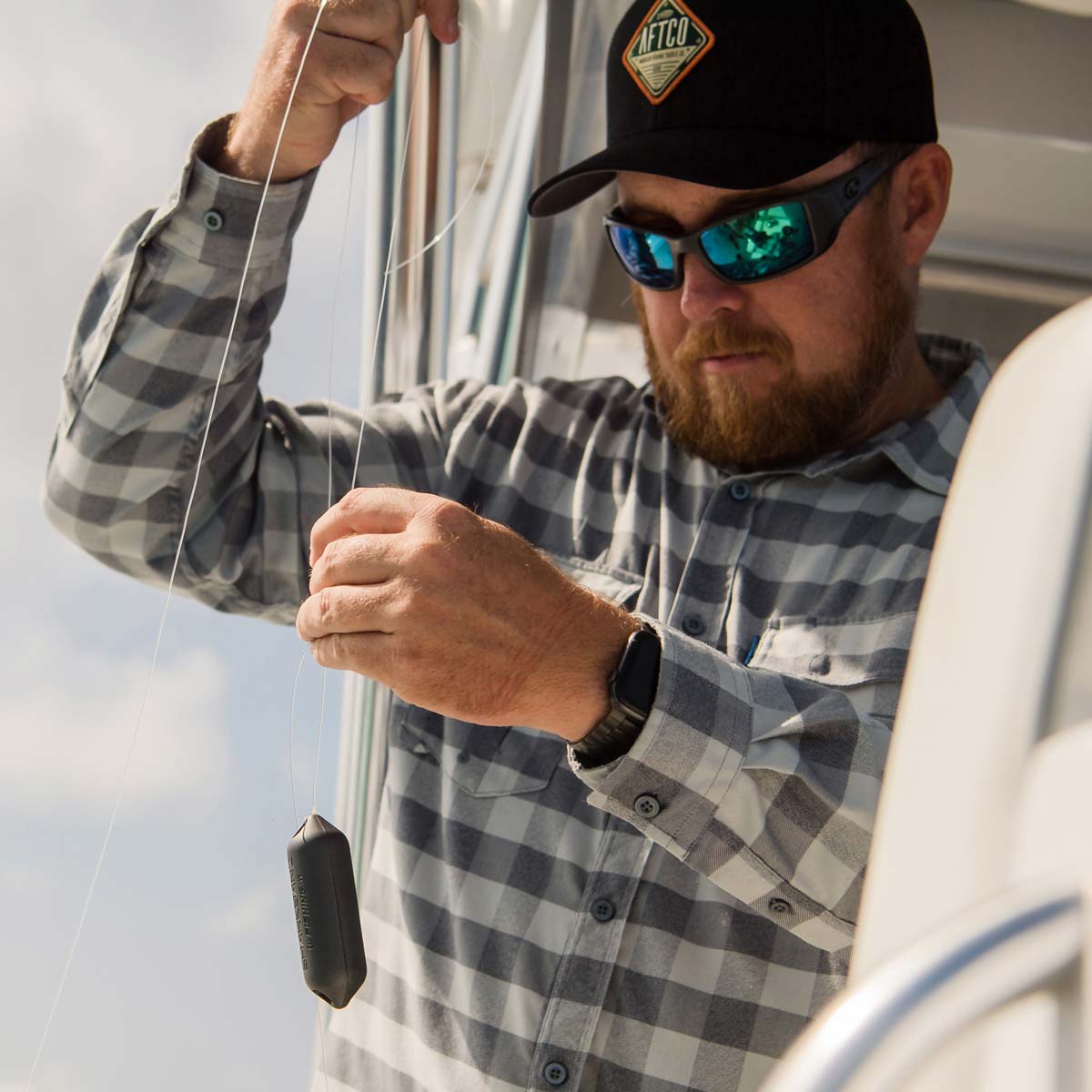 Easy to Rig and Fit your Style
Whether you prefer a chicken rig, paternoster inline, or prefer our "deployment" method (clipped to line after hook-up), the Zeppelin is designed to be versatile and still effective.
Explore Rigging Methods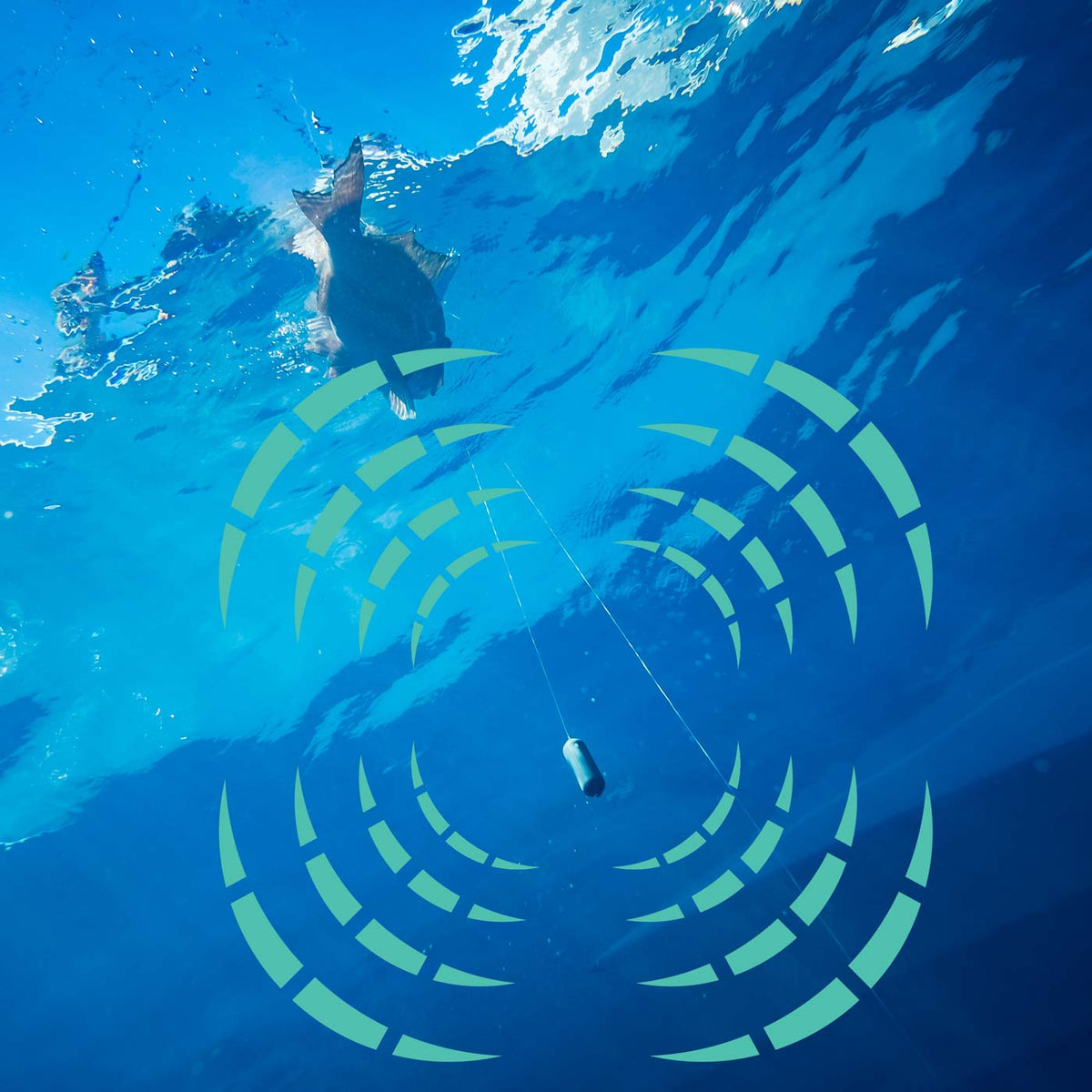 Independently Tested & Verified
A study from the Australian Government (DPIRD, 2021) proves the effectiveness of Sharkbanz Fishing at reducing shark depredation and enabling fishermen to land more fish.
View Tech Research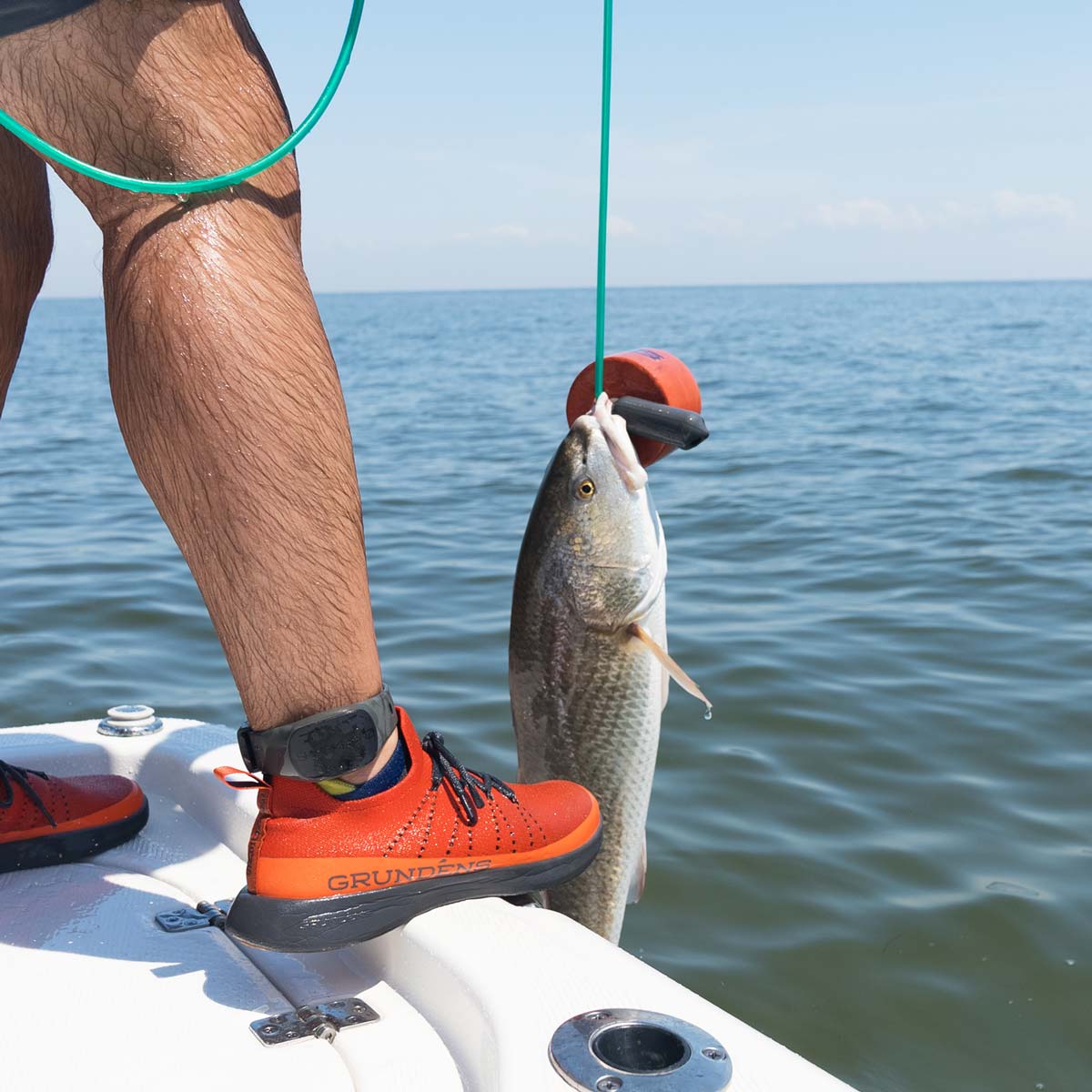 Multiple Fishing Applications
The Zeppelin can be used to protect your catch when bottom fishing, wade fishing, and spearfishing. Similar to the tech, the ways to incorporate it are simple and effective.
Reviews From the Field
Trusted by the Pros
Sharkbanz Fishing Demos & Reviews
The key to success is the placement of the device in relation to your catch.
Visit our Zeppelin Rigging page for the best methods/practices for maximizing effectiveness while minimizing device loss potential. Instructions are easy to follow and the device is simple to use.
Our rigging guidelines is essential reading before using the product.
Using patented magnetic technology researched and tested by marine biologists on predatory shark species, Sharkbanz Fishing tackle overwhelms a shark's electroreception (sensitivity to electric fields), creating a highly unpleasant sensation that can stop the ocean's Taxman in his tracks – protecting your catch, gear, and good time on the water. Sharkbanz Fishing tackle does not harm sharks or repel other fish, but it can repel stingrays, which also use electroreception, which is a huge benefit for wade fishing.
The Zeppelin is a proven shark deterrent technology based on years of research and product testing by marine biologists, fishermen, and the Sharkbanz team. Similar to other tackle gear, there are no outcome guarantees, but when used correctly, the Zeppelin is proven to reduce the occurrence of shark depredation (aka "getting sharked") and help enable fishermen to land more fish. Sharkbanz Fishing products can provide fisherman more time to land their catch and reduce catch & gear loss - offering new opportunities to bottom fish in areas previously unimaginable due to aggressive and conditioned sharks.
It's important that you still diligently land your fish. Don't simply let it hang out in a sharky area. Letting your catch soak may result in loss of gear and target fish. Keep it moving and land your fish! Longer fight times may allow shark habituation to occur. If positive results diminish, relocation may be necessary.
Special care should be taken with Sharkbanz Fishing tackle and sensitive boating equipment with compasses. If outside of its protective case, please ensure your Zeppelin is at least 24 inches (60 cm) distanced from your boat's GPS / compass equipment.
Placing your Zeppelin within 24 inches (60 cm) of the compass will cause the compass to display an inaccurate reading. 
Avoid direct contact with any sensitive electronics (camera memory cards, hard drives, etc.) and Sharkbanz Technology, especially for prolonged periods of time.
Your Zeppelin (Sharkbanz.com only) purchase includes a unique heavy duty magneticially-shielded case that you should use to safely store your Zeppelin. When placed in its protective case, the Zeppelin will not damage sensitive electronic equipment.
As long as your Sharkbanz products are not exposed to temperatures over 140°F (60°C) for a significantly sustained period of time and the chassis is not physically damaged, then the magnetic technology will not lose its effectiveness.
Similar to other fishing gear, you can expect to replace your Sharkbanz Fishing gear from time to time should you lose a rig, but you should find excellent utility from your Zeppelin when you follow the correct uses and rigging guidelines.
If there is ever any Sharkbanz product issue, please contact us: connect@sharkbanz.com.
To prevent losing the Zeppelin to a snag, rig a lead below the device on lighter test. This way the additional lead will break off on the bottom structure and you won't lose your Zeppelin. If you are using sinkers in conjunction with your Zeppelin, do not use steel sinkers. Use only lead or zinc sinkers when using the Zeppelin due to its magnetic properties.
We also highly recommend our Deployment method for rigging your Zeppelin to reduce the potential for loss. Visit our Rigging page to learn more.